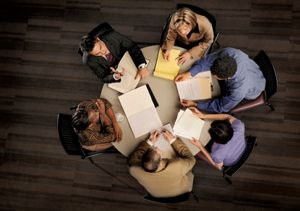 In working with us, you'll find that our company is not overly regimented. Everyone understands their role but is willing to help out wherever needed to see a job through. You'll never hear a member of our staff say, "that's not my job."
Though we believe whole-heartedly in this open approach, it's necessary to separate our company into a few departments. Whether it's Customer Service or production, it takes everyone we have to make our clients look their best.
Graphics & Design
Along with top of the line quality color printing, Protech Printing & Graphics, Inc. may assist you in the design and implementation of any printing project you might have. From logo design to marketing pieces, allow us to take your business to the next level.
In an ongoing effort to better our graphic and logo designs, we are constantly staying adapt to the latest trends in the graphic industry today. Our team of graphic designers is highly skilled, and will be working with your job every step of the process until completion. We pride ourselves in providing exceptional service accompanied by superior quality every step of the way.
Call Protech Printing & Graphics, Inc. today and allow our graphics department to help you with your logo design or marketing piece, so you can start seeing your business grow!